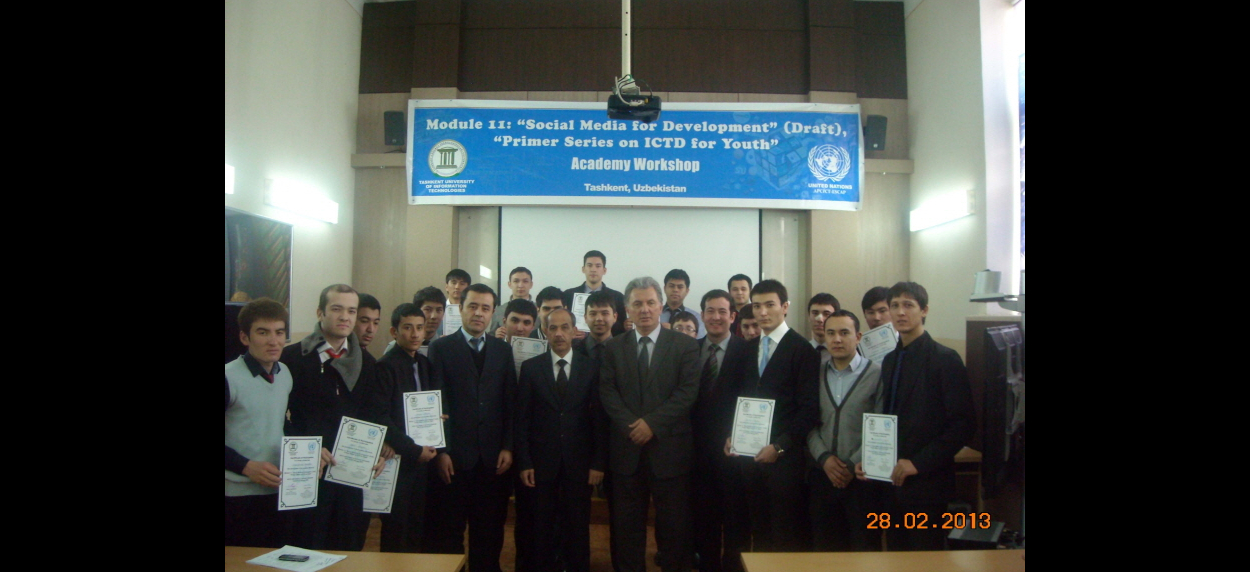 Tashkent University of Information Technologies enhances ICT capacity in Uzbekistan through a seminar on social media for development.
On 27-28 February, Tashkent University of Information Technologies (TUIT) organized a training workshop on the "Primer Series on ICTD for Youth" (Primer Series), APCICT's capacity building curriculum for university students as well as Academy Module 11, "Social Media for Development" in Tashkent, Uzbekistan. 25 undergraduate and graduate students participated during the seminar, which covered various aspects of social media and its linkage to socioeconomic development.
The seminar served to collect feedback on topics addressed in Academy Module 11, which is currently under development. Following finalization of Module 11, APCICT will develop Primer Series Issue 5, which aims to enhance students' awareness of the benefits and challenges of social media tools in a development context. Students' comments collected during the TUIT seminar will serve to enhance Primer 5 and make it more relevant to the needs and interests of students, who are the target audience of the Primer Series.
The first Academy workshop in Uzbekistan was co-organized with the Communications and Information Agency of Uzbekistan, UNDP, and TUIT in 2010. TUIT is currently leading the roll-out of the Academy and Primer Series in Uzbekistan.