Published: Jul 25, 2021 9:00 AM
Recognizing the tremendous potential of Information and Communication Technologies in enhancing digital agriculture and catalyzing financial inclusion within small island developing States, APCICT/ESCAP is partnering with Digital Transformation Centres (University of PNG), National Information and Communication Authority, International Telecommunication Union (ITU), Food and Agriculture Organization (FAO), United Nations Capital Development Fund (UNCDF), and East Sepik Provincial Administration to deliver a training on "Financial Literacy and AgriTech for Papua Ne
Published: Jul 23, 2021 9:00 AM
The widespread of ICTs has paved the way for a data revolution. This revolution offers governments new opportunities that can help increase efficiency, transparency, and improve public services. However, the slow adoption of data in governance can be attributed numerous reasons, including political and technical, such as the lack of data standards, poor data quality, poor information governance, and lack of appropriate policy frameworks.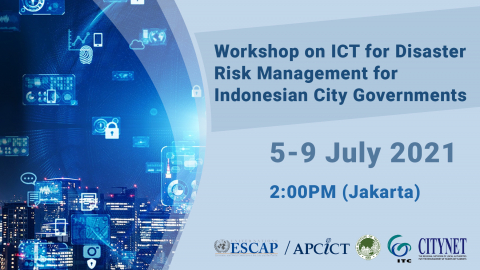 Published: Jun 15, 2021 11:00 AM
Recognizing the critical role of local governments in managing disaster risk, protecting citizens and developing communities, APCICT/ESCAP and CityNet Secretariat co-organized a Workshop on ICT for Disaster Risk Management for Indonesian City Governments from 5 to 9 July 2021, in partnership with the Asian Institute of Technology and ITC University of Twente.