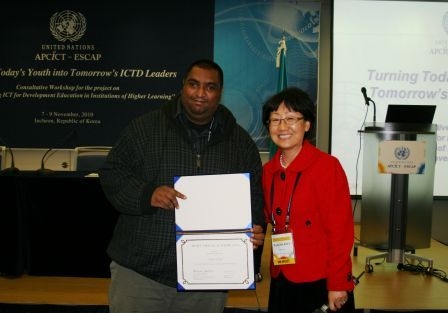 Location
Incheon, Republic of Korea
UN Information and Communication Technology Hub presents APCICT Virtual Academy Award to ICT e-Learner from Fiji
Incheon, Republic of Korea – The Asian and Pacific Training Centre for Information and Communication Technology for Development (UN-APCICT/ESCAP), a regional institution of ESCAP, recognized Mr. Javed Yusuf from Fiji, for commendable performance in a comprehensive information and communication technology for development (ICTD) e-Learning programme.
Mr. Yusuf, an Education Technologist at the University of the South Pacific, Laucala Campus, in Fiji, was awarded the second APCICT Virtual Academy (AVA) Award recognizing his successful completion of AVA courses with an exceptional score. The AVA platform, available in English, Russian and Bahasa Indonesia, provides e-Learners ICTD training through eight self-paced and freely accessible modules that cover a variety of ICTD topics. There have been over 3,600 AVA course-enrollments by users from 116 countries since the online platform was launched in June, 2009.
"Working through all the AVA training modules provided me with a greater understanding of the potential of ICT for socio-economic development and meeting the Millennium Develop Goals", said Mr. Yusuf. "AVA's rich content and user friendliness is ideal for anyone looking to enhance their knowledge and capacity in ICT for development". 
AVA is the online version of APCICT's flagship programme, the "Academy of ICT Essentials for Government Leaders" (Academy).  The Academy is designed to equip government leaders with skills and knowledge to leverage ICT opportunities for socio-economic development.  AVA was designed to expand the reach of the Academy and increase access to ICTD training for learners and educators unable to attend face-to-face training workshops. 
APCICT recognized Mr. Yusuf with the AVA Award during the closing ceremony of a consultative workshop conducted to strengthen ICTD education in higher-learning institutions in the Asia-Pacific region.  The workshop, held in Incheon, Republic of Korea from 7-9 November, was attended by participants from government, higher-learning institutions and regional organizations including, the University of the South Pacific and the Secretariat of the Pacific Community.
Mr. Yusuf is the second AVA member to receive the award, which included sponsorship to attend the consultative workshop on ICTD education.  The first round recipient of the AVA Award, Mr. Nurilla Nahamatov of Uzbekistan, attended a workshop on public services and ICT, co-organized by APCICT, the Asian Development Bank and Korea's National Information Society Agency.  The winner of the third round of the AVA Award will be announced early in 2011.
For more information about the 2nd AVA Award Winner