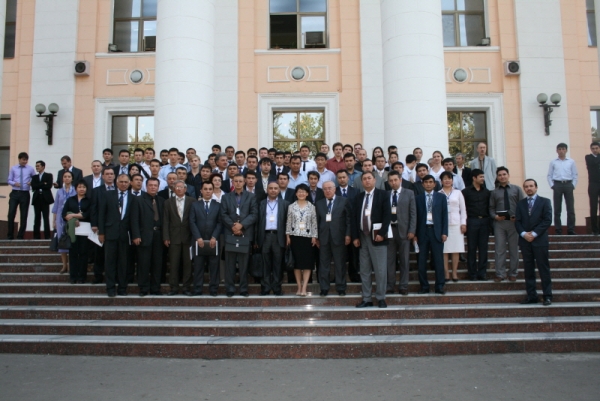 UN-APCICT/ESCAP in collaboration with UNDP in Uzbekistan, the Uzbekistan Agency for Communication and Information (UzACI), and Tashkent University of Information Technologies (TUIT) carry-out a two-day workshop to equip government officials in Uzbekistan with the skills and knowledge to leverage ICT for socio-economic development.
Press Release No: G/41/2010
Date: 24 September 2010
BANGKOK (UN ESCAP Information Services) – The United Nations in collaboration with national partners Thursday began a two-day workshop in Tashkent, Uzbekistan for over 50 Uzbek high-level government officials to develop national ICT (information and communication technology) capacities for socio-economic development.
The "Academy National Workshop: Application of ICT in Public Administration" is being held at Tashkent University of Information Technologies (TUIT).  'Delivering as One',  the UN Asian and Pacific Training Centre for Information and Communication Technology for Development (UN-APCICT/ESCAP) and  the UN Development Programme (UNDP) in Uzbekistan jointly organized  the workshop, in collaboration with the Uzbekistan Agency for Communication and Information (UzACI) and TUIT.
Uzbekistan has identified ICT for development as a national priority and is working with several UN agencies, including APCICT, to strengthen ICT human resources and institutional capacity.
Senior government officials responsible for ICT and e-Government projects, representatives of eight government ministries, including the Ministry for Higher and Specialized Education, the Ministry of Foreign Economic Relations and the Ministry of Public Education, as well as TUIT academics are attending the workshop which aims to enhance human resource capacity in the use of ICT for socio-economic development.
"The workshop reaffirms Uzbekistan's commitment to developing national ICT capacity and promoting ICT as an influential tool in the effort to achieve socio-economic development," said Dr. Hyeun-Suk Rhee, APCICT Director who presided over the opening session together with Prof. Sodikdjan Kasimov, Rector TUIT, Mr. Botir Hakimov, Cabinet of Ministers Representative, Mr. Aziza Umarova, Head of Good Governance Unit of UNDP Uzbekistan, and Mr. Asadjon Hodjaev, Deputy General Director of UzACI.
"The collaborative effort of UNDP and APCICT to work with a variety of dedicated partner organizations also reaffirms the UN's commitment to delivering important capacity building services in an inclusive and unified manner," she added.
The "Academy of ICT Essentials for Government Leaders" a core ICT-for-development curriculum developed by APCICT, is the centerpiece of the training workshop. The curriculum aims to equip policy-makers and project managers with ICT skills and knowledge needed to develop and deliver effective public services.
Comprising eight stand-alone but interlinked modules, the Academy has been used since June 2010 to build ICT human resource capacities under UNDP's "Assisting the Government of Uzbekistan in the formulation and implementation of ICT for development policy" (ICTP) Project.
Utilizing customized versions of Academy Module 7, ICT Project Management in Theory and Practice, and Module 8, Options for Funding ICT for Development, the UNDP ICTP Project has so far organized a series of ICT capacity building workshops for about 550 local government officials in 12 of Uzbekistan's 13 provinces.
The Workshop held from 23 to 24 September 2010 covers Academy training Module 1 - The Linkage between ICT Applications and Meaningful Development; and Module 2 - ICT for Development Policy, Process and Governance. To facilitate delivery, Briefing Notes 1, 2, and 3, of the APCICT Briefing Notes Series have been translated into Uzbek.
Since its official launch in June 2008 and responding to strong demand from member States, the Academy has so far been adopted and institutionalized into national ICT human capacity development frameworks in many countries in the Asia-Pacific region. A Russian version of the Academy was successfully delivered in Tajikistan in September 2009 and in Kyrgyzstan in October 2009. APCICT works with a wide range of partners to organise ICT capacity building through the Academy at national and sub-regional levels throughout the region.