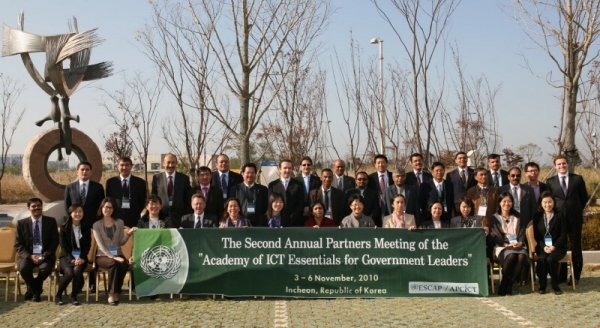 Location
Incheon, Republic of Korea
UN-APCICT/ESCAP and National Partners discuss best practices and future of capacity building programme on Information and Communication Technology for development.
Press Release No: G/56/2010
Date: 4 November 2010
Incheon, ROK – Thirty participants from twenty-one countries in the Asia-Pacific have gathered together to share experiences and discuss the status and way forward of a UN developed comprehensive Information Communications Technology for development (ICTD) training programme.
The Second Academy Partners Meeting in Incheon, Republic of Korea was organized by the United Nations Asian and Pacific Training Centre for Information and Communication Technology for Development (UN-APCICT/ESCAP) - a regional institute of the Economic and Social Commission for Asia and the Pacific (ESCAP).  The meeting centre's on APCICT's flagship programme, the "Academy of ICT Essentials for Government Leaders Programme" (Academy), and will run 3 – 6 November, 2010.
The Academy is a comprehensive ICT for development curriculum with eight core training modules that provides senior government leaders with the skills and knowledge to fully embrace ICT opportunities for socio-economic development.  Since being launched in 2008, APCICT has worked with these national partners to roll-out the Academy in 17 countries throughout the Asia-Pacific region.
This is the second Academy Partners meeting where participants will discuss the current state of the Academy programme in countries where it has been launched, plans to launch it elsewhere within the region, as well as strategies to monitor, evaluate, communicate and promote the Academy training programme. 
"This week's meeting demonstrates the enthusiasm of APCICT's partners for the Academy programme, and our commitment to undertake a participatory and inclusive approach to help create the ability of our partners to embrace ICT for development", said Dr. Hyeun-Suk Rhee, Director of APCICT. 
Participants will also have a valuable opportunity to network and share important lessons and experiences about Academy workshops and the use of ICT to meet national and regional socio-economic development goals.
"The Academy Partners Meeting is a valuable opportunity for partners to learn from each other about the most effective way to deliver Academy training", said Board Member (Deputy Minister) U Nyi Tun of the Civil Service Selection and Training Board of Myanmar. "The discussions here will help ensure that the benefits of the Academy reach a wider audience in our countries now and in the future."
To date, Bangladesh, Bhutan, Pakistan and Sri Lanka have plans to launch the Academy in the coming year, while Afghanistan, Cambodia, Cook Islands, Kiribati, Kyrgyzstan, Lao People's Democratic Republic, Indonesia, Mongolia, Myanmar, the Philippines, Samoa, Tajikistan, Timor-Leste, Tonga, Tuvalu, Uzbekistan and Viet Nam have already rolled-out the Academy at the national level.
"The collaboration of regional government officials and academics underscores the fact that ICT is an important socio-economic development tool, and that ICT human resource capacity must be enhanced to fully utilize its potential", added Dr. Rhee
Since first being launched in 2008, over 6,100 participants have received Academy training through face-to-face workshops and online instruction.  Academy curriculum is delivered online via the APCICT Virtual Academy, which was launched in 2009.  The Academy is available in English, Russian, Bahasa Indonesia and Vietnamese, with initiatives underway to translate the curriculum into seven other languages.
APCICT is working with United Nations Economic and Social Commission for Western Asia, the United Nations Economic Commission of Africa, and the United Nations Economic Commission for Latin America and the Caribbean to bring Academy training in these regions.