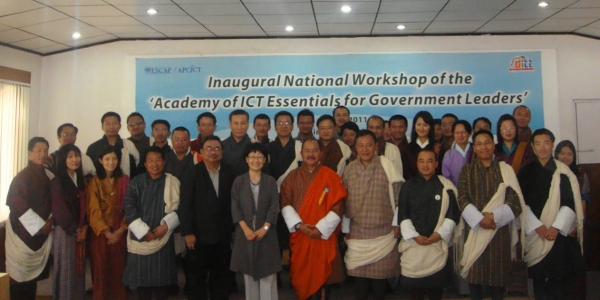 Location
Himalayan kingdom
More than 40 senior government officials and policymakers representing 10 ministries and 5 autonomous government agencies are meeting in Thimphu this week to roll-out a UN information and communication technology (ICT) capacity building programme that aims to support socio-economic development in Bhutan.
Thimphu (UN-APCICT/ESCAP) -The United Nations Asian and Pacific Training Centre for Information and Communication Technology for Development (UN-APCICT/ESCAP), with the support of Bhutan's Ministry of Information and Communication (MoIC), has partnered with the Royal Institute of Management (RIM) to launch the "Academy of ICT Essentials for Government Leaders" (Academy) programme in the country. 
The Academy is APCICT's flagship training programme made up of a comprehensive ICT for development (ICTD) curriculum designed to equip government leaders with the necessary skills and knowledge to leverage ICT for socio-economic development.
Participating in the opening ceremony, Dr. Hyeun-Suk Rhee, Director of APCICT, noted the significance of the Academy launch. "Today's roll-out clearly demonstrates the Royal Government of Bhutan's commitment to developing ICT human resource capacity for the purpose of enhancing and driving the country's socio-economic development work."
Bhutan is making considerable progress in implementing numerous ICT activities, according to the latest review by the International Development Research Centre. In 2009, work began on the Royal Government of Bhutan's flagship ICT infrastructure project, the Thimphu Tech Park.  ICT human resource capacity development has also been made a government priority, as demonstrated by Bhutan's Chiphen Rigpel "Empowering a Society, Enabling a Nation" project that is designed to provide ICT training to all sectors of society in order to move Bhutan into the Information Age.
"The Royal Government of Bhutan is very pleased to be partnering with APCICT to strengthen the ability of government officials and development stakeholders in the country to effectively use ICT to achieve our national development goals," said H.E. Lyonpo Nandalal Rai, Minister for Information and Communication, who delivered the opening address for today's launch. "It is through ICT awareness and skills that our leaders and citizens will achieve their full potential and enable us to build a knowledge –based Gross National Happiness society."
The launch of the Academy includes a five-day workshop that covers three training modules: 1) The Linkage between ICT Applications and Meaningful Development; 2) ICT for Development Policy, Process and Governance; and 3) Options for Funding ICT for Development. 
This week's workshop is being jointly coordinated by MoIC and RIM, Bhutan's apex management training institute. RIM will coordinate the delivery of future Academy training within Bhutan under the broad ICT policy guidance of the MoIC.
"Utilizing a high quality capacity building programme, such as the Academy, will strengthen the skills enhancement for policymakers that RIM is delivering in Bhutan," said Mr. Karma Tshering, Director of RIM. "RIM is confident that the Academy will be an effective and well received training resource that will help augment Bhutan's ICT for development capacity."
The workshop will conclude on 8 July with an official ceremony that will have APCICT and RIM sign a partnership arrangement outlining the way forward for ICT capacity development in Bhutan through the Academy programme.
First launched in 2008, the Academy has been rolled-out in 20 countries across the Asia-Pacific region in partnerships with national governments, academic institutions and regional development stakeholders.