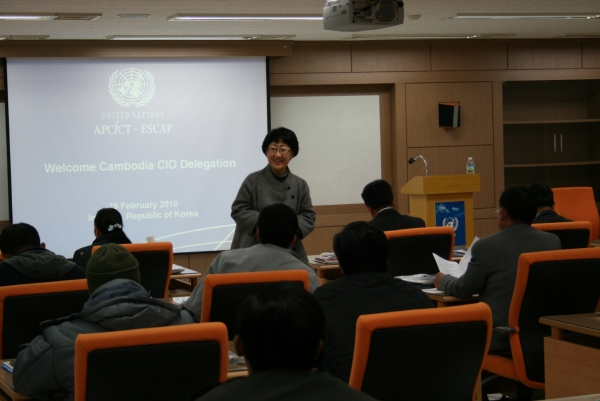 Location
Incheon, Republic of Korea
Cambodian delegation meets with ACPICT leadership to strengthen partnership and prepare for upcoming launch of the "Academy of ICT Essentials for Government Leaders" in Cambodia.
A forty-member delegation of Cambodian information and communication technology (ICT) leaders, Chief Information Officers of Ministries and provincial government officials visited the Asian and Pacific Training Centre for Information and Communication Technology for Development (APCICT) on 25 February 2010.
Dr. Hyeun-Suk Rhee, Director of APCICT met with the Cambodian delegation led by H.E. Leewood Phu, Secretary General of the National Information Communications Technology Development Authority (NiDA) of Cambodia, for talks to explore possible collaborations and finalize the launch of APCICT's flagship ICT capacity building programme, the "Academy of ICT Essentials for Government Leaders" (Academy) in Cambodia to be held 9 -12 March, 2010.
In their meeting, Dr. Rhee briefed the delegation on APCICT's work programme, and complimented H.E. Leewood Phu for his leadership in successfully establishing the Provincial Administration Information System (PAIS), an integrated e-government system to improve public service delivery.
The APCICT-NiDA partnership agreement signing ceremony will take place at the opening of the First National Workshop of the Academy on 9 March 2010, following which a four-day training based on the Academy curriculum will be held for about 50 senior officials. The agreement will detail the plan for rolling out the Academy programme in Cambodia, which is designed to strengthen government officials' competencies in the use of ICTs to effectively deliver public services.
During the Cambodian delegation's visit to the Republic of Korea, they also met with various Korean ICT organizations, including APCICT's partner, the National Information Society Agency (NIA).