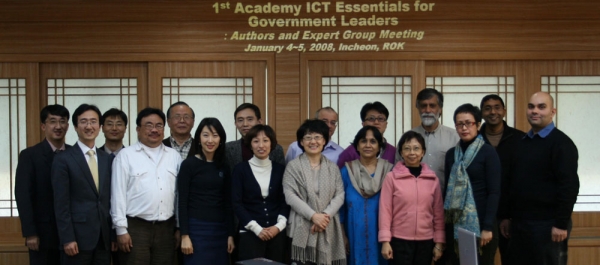 Date
Jan 4th 2008 - Jan 5th 2008
Location
Incheon, Republic of Korea
An Expert Group Meeting was held in Incheon, Republic of Korea on 4-5 January 2008 with the eight authors of the modules for UN-APCICT's Academy of ICT Essentials for Government Leaders. Discussions focused on the objective, contents, structure, timelines, peer review process, sub-regional workshops and the Online Distance Learning Platform.
The Academy of ICT Essentials for Government Leaders is UN-APCICT's flagship project. It aims to equip policy makers and government officials with the essential knowledge and skills they need to fully leverage upon opportunities presented by ICTs to achieve national development goals. In today's networked global economy such basic knowledge is required for government leaders who seek to build a promising future for their nation and their constituents. This eight-module programme is delivered using a variety of formats including CD-ROM, online instruction, and on-site training in a way that minimizes the disruption to the participant's job functions.
The meeting aimed to develop a common understanding among the authors on general characteristics of the modules in order to ensure consistency in their content and organization. To assist in this process is a project advisor who will coordinate the overall development of the modules, and an editor who will ensure quality and consistency in all the modules.
This is the first phase where experts will develop the modules and ensure that it is ready for the launch of the First Academy of ICT Essentials for Government Leaders on 16 June 2008 where a three-week course for trainers will be conducted in Incheon, Republic of Korea. Prior to the launch however, during April and May 2008, different modules will be delivered with national partners in Armenia, India and Indonesia for any feedback and comments.
All training materials including powerpoint presentations will be online, and academic and training institutions will be able to download the materials and customize them if necessary.
In the second phase, self-paced courses based on the eight modules will be developed, and made available online. The eight modules will also be translated into at least three different languages.