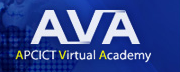 Location
Incheon, Republic of Korea
APCICT is pleased to announce that Mr. Nurilla Mahamatov, winner of the first round of the APCICT Virtual Academy (AVA) Award, will be attending a regional Training of Trainers workshop in the Rebuplic of Korea.
Mr. Mahamatov will participate in a workshop on e-Government Capacity Maturity Model and ICT Project Management to be held from 9 to 11 August in Seoul, Republic of Korea. The Training of Trainers workshop is an integral element of the "Improving Public Administration through ICT" project, a joint collaboration by the Asian Development Bank (ADB), the National Information Society Agency (NIA) of Republic of Korea and APCICT.  As the winner of the first AVA Award, APCICT will cover Mr. Mahamatov's travel and accommodation expenses while participating in the training workshop.
A participant of the "Academy of ICT Essentials for Government Leaders", Mr. Mahamatov was bestowed the AVA Award in August, 2009.  A senior lecturer at the Management Development Institute of Singapore in Taskkent, Uzbekistan, Mr. Mahamatov holds a PhD in Techno-economics and Technology Management from Seoul National University, and undergraduate and graduate level degrees in telecommunications from the Tashkent Elektrotechnical Institute of Communications in Uzbekistan.
The second round of the AVA Award, announced in April 2010, was also given to an AVA participant from Uzbekistan.  The third round of the AVA Award has just commenced and will remain open till the end of October, 2010. At the end of the round, participants who complete the AVA online training and submit a case study on local ICT capacity building will be eligible to compete for an award to attend an APCICT-organized event. The AVA participant who scores highest on quizzes and submits a case study of sufficient quality will be given the AVA Award and be eligible to attend an APCICT-organized face-to-face training event held in the Republic of Korea. APCICT will cover the cost of the candidate's training fees, international travel and accommodation.
For more information about AVA and the AVA Award, please visit http://e-learning.unapcict.org