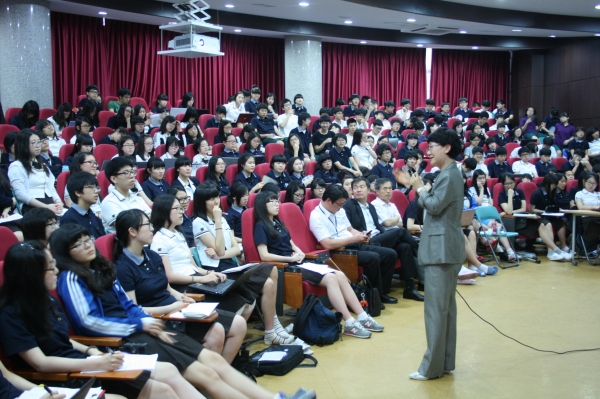 Location
Incheon, Republic of Korea
APCICT presents to local-Incheon area High School students about career opportunities across the globe.
On 18 July, Dr. Hyeun-Suk Rhee, Director of the Asian and Pacific Training Centre for Information and Communication Technology for Development (UN-APCICT/ESCAP) visited the Incheon International High School to give a presentation on a career in international development and provide insights to students interested in working with international organizations. The one-hour guest lecture, titled "Working for the International Community: A Rewarding Career for Today's Youth," was part of the Centre's ongoing outreach to the local community and youth. The presentation engaged close to 200 students and was followed by an energetic question-and-answer session.
APCICT has a number of activities and initiatives designed to engage youth and enhance their capacity through its "Turning Today's Youth into Tomorrow's Leaders' Programme".  Since 2007, APCICT has been welcoming youth from throughout the world to gain work exposure in the field of International Development. In February 2012, APCICT launched the "Primer Series on ICTD for Youth", a resource developed for use in institutions of higher learning that is being rolled-out across the Asia-Pacific.