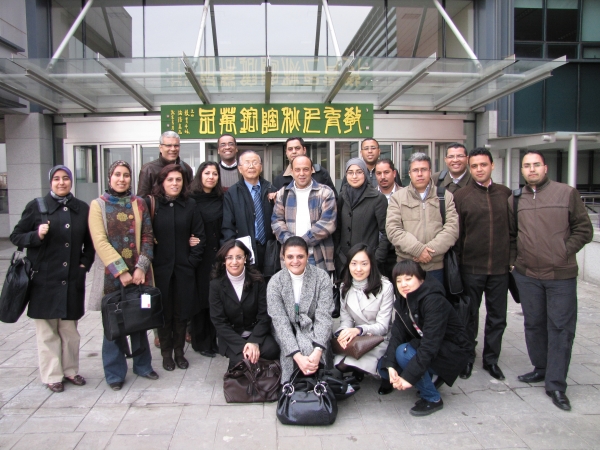 Location
Republic of Korea
The United Nations Asian and Pacific Training Centre for Information and Communication Technology for Development (UN-APCICT), a regional institute of the Economic and Social Commission for Asia and the Pacific (ESCAP) continues to support ICT human resource capacity building and strengthen partnerships with regional stakeholders.
Last week, APCICT curriculum was utilized as part of an ICT training programme initiated by the Government of Morocco, the Korea International Cooperation Agency (KOICA), and Sungkyunkwan University in Korea.  Module 3 - e-Government Applications - of the "Academy of ICT Essentials for Government Leaders" (Academy), APCICT's flagship programme, was designated to be the introductory course of a two-week intensive e-government training workshop involving government officials from Morocco.
The workshop was organized by KOICA and Sungkyunkwan University, through its Global e-Policy and e-Government Institute. On 24 March, APCICT participants introduced the Centre's mission and the Academy programme, as well as the author of Academy Module 3, Dr. Nag Yeon Lee.  The Academy presently consists of eight standalone, yet inter-linked modules that provide a comprehensive curriculum on the fundamentals of leveraging ICTs to achieve development goals
In addition to forging new relations with KOICA, and Moroccan government officials, APCICT's collaboration in the workshop built upon its partnership with Sungkyunkwan University and its Global e-Policy and e-Government Institute.  The relationship was established in 2008, as APCICT and Sungkyunkwan worked together to facilitate a two-week e-government training programme for government officials from 13 Pacific Island countries in coordination with Korea's Ministry of Foreign Affairs and Trade and the Pacific Islands Forum (PIF).