ICTD InfoBank: A Knowledge Sharing Portal on ICTD for the Asia-Pacific region
ICTD InfoBank: A Knowledge Sharing Portal on ICTD for the Asia-Pacific region
The ICTD InfoBank has been designed and developed by APCICT as a place for online convergence of like-minded individuals and organizations working to strengthen capacities in the use of information and communications technology for development (ICTD) in the Asia-Pacific region. The ICTD InfoBank does not attempt to duplicate the work of other ICTD portals, it aims to provide easy access to relevant resources on ICTD. The resources available in the ICTD InfoBank aims to support trainers and educators in building ICTD capacity, and assist policy makers in making informed decisions.
Resources on the ICTD InfoBank include: publications, reports, journal, articles, working papers, training manuals, guidelines, case studies, video and audio files, and multimedia materials, as well as web portals with links to relevant resources, and blog sites. Users can browse these different types of resources by various topics (e.g. e-commerce, e-governance), by country, or by organization that have published these resources.
This article covers a wide range of areas in which ICT can support improvements in the quality of health care, including improvement of the qualifications and skills of health and medical professionals, increase public access to information on their health and how to be healthy, and increase in the efficiency of health services.
Ethno-Med., 1(1): 21-25 (2007)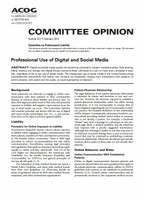 Digital and social media quickly are becoming universal in modern medical practice. Data sharing, online reviews and ratings, and digital privacy concerns likely will become a part of most every physician's practice, regardless of his or her use of social media. The widespread use of social media in the United States brings unprecedented connectivity that opens new horizons for physicians, ranging from interactions with patients, to communication with peers and the public, to novel approaches to research.