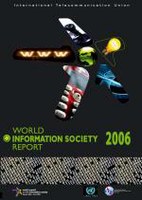 The World Information Society Report 2006 is the first edition in a series of reports that will monitor the development of the Information Society worldwide. In particular, this new series will chart progress towards the implementation of the outcomes of the World Summit on the Information Society (WSIS) and WSIS targets. This Report is intended to provide guidelines for policymakers, in particular in developing countries, in the context of mobilizing resources and developing their own strategies for building the Information Society. In this regard, the Report covers the main elements of the Information Society and provides a new tool for measuring progress towards building it, through the Digital Opportunity Index (DOI).
The report charts progress towards building the Information Society in the light of the WSIS targets and the Millennium Development Goals, as called for in the WSIS Geneva Plan of Action. It evaluates access to telecommunications and digital opportunity in 180 economies worldwide and considers the policy implications for the further evolution of the Information Society, through the Digital Opportunity Index, which is one of the two indices endorsed in the WSIS Tunis Agenda. This report is divided into the following chapters:
Chapter one describes the origins of this report in the World Summit on the Information Society.

Chapter two introduces the DOI as a statistical tool for policymakers.

Chapter three shows how the DOI can be used to analyse the latest trends in the evolving digital divide.

Chapter four reviews recent developments in policy and regulatory reform and shows how the DOI can be used to support the policy-making process.

Chapter five focuses on WSIS implementation and follow-up in different countries

Chapter six summarises the main findings emerging from this Report's review of digital opportunity worldwide.
© ITU, 2006, 151 pages ISBN 28974