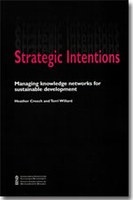 This guide is written for practitioners who are working with different models of individual and institutional knowledge collaboration. It aims to capture the details of network operations and management; and discuss what it really takes to help knowledge networks achieve their potential.
This guide answers the following questions:
What is its intention in setting up the network? What policy or practice does the lead organisation want to change?
Are partners needed to move that change forward, and if so, why? Will they contribute knowledge, or legitimacy, or access to decision-makers, or access to funding?
What advantage, if any, will the lead organisation lose or gain by not working in a network with others? Will partners water down rather than strengthen its efforts?
© International Institute for Sustainable Development, 2001, 150 pages ISBN 1-895536-48-0