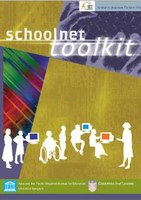 This toolkit is designed to help education planners and practitioners integrate information and communication technologies (ICTs) into education systems. It is meant to be a practical resource about ICTs in education, and more specifically about setting up and operating schoolnet programmes and projects. A schoolnet programme is an organized set of activities that expands the use of ICTs and promotes sharing of educational resources by teachers and students at schools. Schoolnet programmes may be located inside or outside government, may be large initiatives with substantial funding, or smaller innovative projects without big budgets.
The toolkit is meant for use by policymakers and high-level managers, Schoolnet builders and managers, and practitioners. It is structured into four main sections, designed with different readerships in mind:
Guidebook1: ICTs in Education and Schoolnets is intended for everyone. It describes the value proposition for ICTs in education, and the broad processes that need to be integrated to ensure sustainable impact
Guidebook2: Planning Schoolnet Programmes is intended for policymakers and high-level managers, and for schoolnet programme managers
Guidebook3: Implementing Schoolnet Programmes is a practical and operational guide for managers of schoolnet programmes, covering project planning and implementation and the key elements involved in an ICT project
Guidebook4: Practitioner's Guide provides pointers on ICT integration for educators, school management, and others directly involved in producing or using educational ICT resources in a school context.
© UNESCO and Commonwealth of Learning, 2004, 250 pages ISBN 92-9223-0020-4