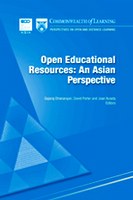 This book, the result of an OER Asia research project hosted and implemented by the Wawasan Open University in Malaysia, with support from Canada's International Development Research Centre, brings together ten country reports and ten case studies on OER in the Asian region that highlight typical situations in each context. China, Hong Kong, India, Indonesia, Japan, Korea, Malaysia, Pakistan, the Philippines and Vietnam all receive extensive treatment, as do the multi-regional initiatives of the Virtual Academy for the Semi-Arid Tropics.
Higher education has experienced phenomenal growth in all parts of Asia over the last two decades — from the Korean peninsula in the east to the western borders of Central Asia. This expansion, coupled with a diversity of delivery and technology options, has meant that more and more young Asians are experiencing tertiary education within their own countries. In South, South East and Far East Asia especially, universities, polytechnics, colleges and training institutes with a variety of forms, structures, academic programmes and funding provisions have been on an almost linear upward progression.
Notwithstanding this massive expansion, equitable access is still a challenge for Asian countries. There is also concern that expansion will erode quality. The use of digital resources is seen as one way of addressing the dual challenges of quality and equity. Open educational resources (OER), free of licensing encumbrances, hold the promise of equitable access to knowledge and learning. However, the full potential of OER is only realisable with greater knowledge about OER, skills to effectively use them and policy provisions to support their establishment in Asian higher education.
While interest in and the production, distribution and use of OER are still very much in the early stages of development in most parts of Asia, OER's potential value to improve the quality of curriculum, content and instruction, facilitate academic collaboration and enhance equitable access to knowledge resources cannot be overstated.
The 25 contributors to this book bring an impressive level and breadth of expertise, innovation and dedication to researching, developing and advocating for OER. Through a combination of quantitative studies and qualitative analyses, they provide valuable, instructive information and insights from throughout Asia. Open Educational Resources: An Asian Perspective demonstrates that OER development is thriving in Asia — in different economies, amongst different types of stakeholders and with varied approaches to open licensing.
The diversity and richness of the contexts and approaches make this publication an important advocacy tool for promoting the use of OER.
2013