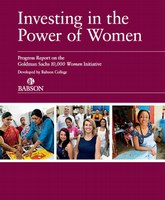 In mid-2013, Babson College, in partnership with the Goldman Sachs Foundation, conducted the first ever analysis of the data that had been systematically gathered across cohorts and countries over the course of the initiative's first four years. This report presents the initial results of that analysis, looking at the impact of providing a business education, access to mentors and networking support to women entrepreneurs across a broad range of emerging market contexts.
Even though research about women's venture creation and performance has increased significantly over the past few decades, less is known about the direct impact of management training and education for women entrepreneurs, and, in particular, for women in emerging economies. 
The findings in this report support the idea that training and education for women entrepreneurs in the 10,000 Women program positively affect emerging economies by increasing revenues and creating jobs, expanding women's contributions to their community and informing their leadership styles. The report also provides a foundation for better understanding the importance of context by describing program impact in three different countries — Brazil, China and Nigeria.
2013, 31 pages