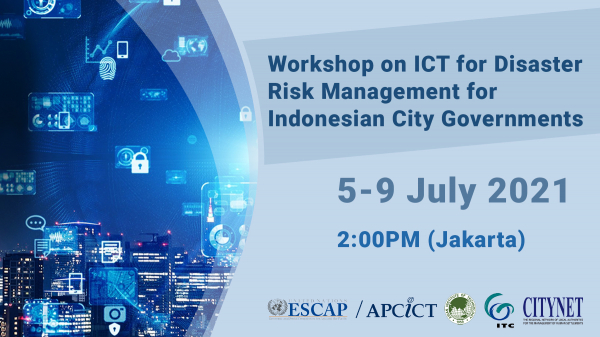 Date
Jul 5th 2021 - Jul 9th 2021
Organizer
APCICT/ESCAP, CityNet Secretariat, Asian Institute of Technology, ITC University of Twente
Recognizing the critical role of local governments in managing disaster risk, protecting citizens and developing communities, APCICT/ESCAP and CityNet Secretariat co-organized a Workshop on ICT for Disaster Risk Management for Indonesian City Governments from 5 to 9 July 2021, in partnership with the Asian Institute of Technology and ITC University of Twente. 
Tailored for Indonesian local government officials, the training aims to equip participants with the essential skills and knowledge to understand the overall framework of disaster risk management and the practical use of digital technologies at all phases of the disaster risk management cycle. Sessions were based on the APCICT Academy module on "ICT for Disaster Risk Management" (2020). 
The event brought together 20 local government officials from various departments and cities responsible for disaster management and urban planning.