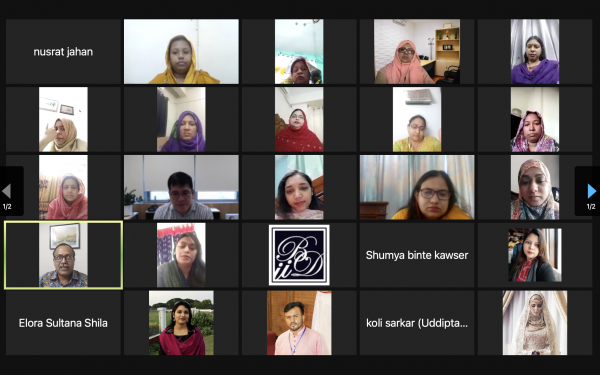 Date
May 22nd 2021 - May 27th 2021
Organizer
Bangladesh Institute of ICT in Development (BIID), APCICT/ESCAP
In an effort to strengthen the capacity of women entrepreneurs in Bangladesh in using digital technologies in their businesses, the Bangladesh Institute of ICT in Development (BIID) organized a 5-day virtual training on Digital Skills on Financial Management and Access to Finance for Women Entrepreneurs, from 22 to 27 May 2021.
The training is part of the ESCAP's five-year (2018-2023) program on "Catalyzing Women's Entrepreneurship - Creating a Gender Responsive Entrepreneurial Ecosystem" funded by the Government of Canada, which aims to strengthen entrepreneurial ecosystems that foster women's entrepreneurship, enhance women entrepreneurs' access to capital through innovative financing mechanisms, and increase women entrepreneurs' use of ICT through relevant training and tools. 
Bangladesh has been selected as one of six target countries for the program. Under the ICT and Business Skills component of the project implemented by APCICT/ESCAP, the program seeks to provide ICT capacity building support for policymakers and women entrepreneurs of the country. The overall goal is to contribute to enhancing the capacities of women entrepreneurs in Bangladesh on using ICT in their business. 
Sessions featured contents from the APCICT flagship programme on Women ICT Frontier Initiative (WIFI), which have been further customized by BIID to fit the national context. The workshop was conducted with the objective of strengthening the capacities of local stakeholders (women entrepreneurs associations, government and NGO training centers and providers, community-based organizations) in rolling out a customized training on ICT use for financial management for women entrepreneurs. In addition, it aimed to facilitate the establishment of an active network of partners and training providers for disseminating the developed training program to women entrepreneurs. 
The event brought together 48 women entrepreneurs addressed the current challenges and barriers pertaining to access to finance, business license registration, and lack of general information among women entrepreneurs in the market. The workshop was designed and delivered according to their specific needs and focused on the significance of the digital skills in this market.