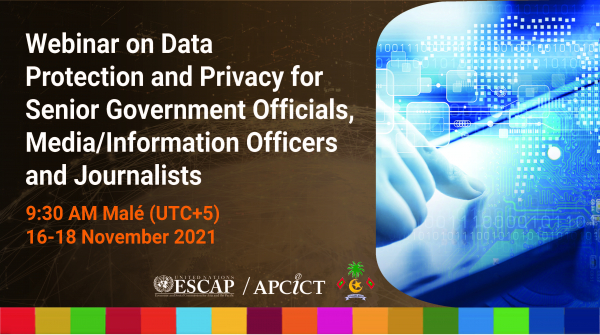 Date
Nov 16th 2021 - Nov 18th 2021
Organizer
Ministry of Environment, Climate Change and Technology of the Republic of Maldives, APCICT/ESCAP
Location
Virtual (Maldives)
In collaboration with the Ministry of Environment, Climate Change and Technology of the Republic of the Maldives, the Asian and Pacific Training Centre for ICT for Development (APCICT/ESCAP) conducted a Webinar on Data Protection and Privacy for Media/Information Officers and Journalists, from 16 to 18 November 2021.
The event expected to enhance understanding among policymakers, regulators and civil servants on the importance of data privacy and protection as well as to emphasize the role of data privacy legislation and share information on international frameworks and good practices from selected countries.
As the Maldives are currently in the process of drafting their Privacy and Personal Data Protection Act, the virtual sessions also aimed to contribute to the country's efforts in strengthening data protection and privacy at the national level. The training was attended by over 50 Media/Information Officers and Journalists.