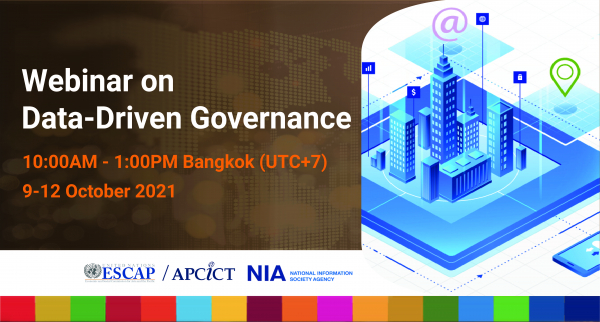 Date
Nov 9th 2021 - Nov 12th 2021
Organizer
National Information Society Agency (NIA), Republic of Korea and APCICT/ESCAP
The Asian and Pacific Training Centre for ICT for Development, in partnership with the National Information Society Agency (NIA) of the Republic of Korea organized a Webinar on Data-Driven Governance from 9 to 12 November 2021. 
The event aimed to deepen participants' knowledge and understanding on the role of data in public sector strategy and public service delivery. It highlighted the role of data and data analytics in supporting evidence-based policy-making and in implementing and monitoring progress towards achieving the Sustainable Development Goals. Good practices and lessons learned from the Republic of Korea, Indonesia and the Philippines were also featured as part of the training. 
The webinar brought together over 80 participants, including managers and mid-level professionals from central and local governments across the Asia-Pacific region, as well as government officials responsible for the development and implementation of digital initiatives.