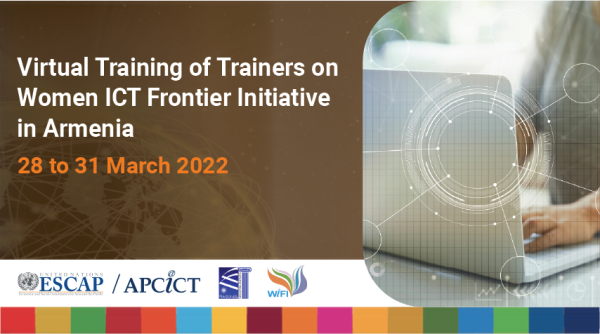 Date
Mar 28th 2022 - Mar 31st 2022
Organizer
Public Administration Academy of the Republic of Armenia (PAARA), APCICT/ESCAP
In partnership with the Public Administration Academy of the Republic of Armenia, the Asian and Pacific Training Centre for ICT for Development (APCICT/ESCAP) held a Virtual Training of Trainers on Women ICT Frontier Initiative in Armenia on 28-31 March 2022.
This virtual training follows the Centre's continuous efforts in strengthening women entrepreneurship, following the National Launch of the "Women ICT Frontier Initiative" (WIFI) programme and subsequent Training of Trainers in Armenia (2017). 
The Training of Trainers aimed to introduce the WIFI programme and the importance of ICT capacity development for women entrepreneurs to key stakeholders and enhance understanding of the importance of women entrepreneurship and ICT capacity development. Furthermore, it expected to increase stakeholder buy-in, strengthen engagement and ownership of WIFI national focal partners, expand the pool of national resource persons who can deliver the WIFI modules, and deliver the training content at national level to potential/current women entrepreneurs. 
The virtual training was attended by 34 participants comprised of potential trainers from training institutions, universities, and civil society organizations.