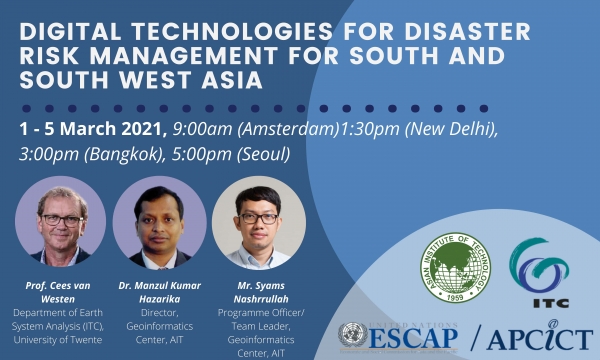 Date
Mar 1st 2021 - Mar 5th 2021
Organizer
APCICT/ESCAP, Geoinformatics Center (GIC) of the Asian Institute of Technology (AIT), ITC-University of Twente
Location
Virtual (South and South West Asia)
In an effort to strengthen the knowledge and capacities of government officials at the national and local levels in South and South West Asian countries in using Information and Communication Technology for Disaster Risk Reduction, APCICT held a Virtual Training on Digital Technologies for Disaster Risk Management, from 1 to 5 March 2021. 
The workshop was organized in collaboration with the Geoinformatics Center (GIC) of the Asian Institute of Technology (AIT) and ITC-University of Twente and was conducted in five sessions. The training was based on the APCICT Academy Module on "ICT for Disaster Risk Management", which aims to equip policymakers with a practical skillset to leverage ICT tools and applications for disaster mitigation, prevention, preparedness, response and recovery. The training introduced various disaster management resources and different platforms on Remote Sensing data. In addition, it enabled participants to gain deeper understanding on the need of end users, as they plan to contextualize the module for their district level. 
The event was attended by 39 participants from nine countries across South and South West Asia, ranging from government officials of ministries and departments responsible for Disaster Risk Management, Urban planning, Home Affairs and other concerned ministries, to field professionals and representatives of Academic and training institutions working on Disaster Risk Reduction.