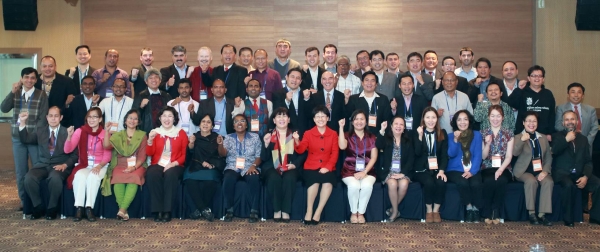 Date
Nov 6th 2012 - Nov 9th 2012
Location
Incheon, Republic of Korea
APCICT gathers government officials, academia and development stakeholders for meetings on Academy and Primer Series information and communications technology for development (ICTD) programmes.
Incheon, Republic of Korea – Over 50 government officials, representatives from academia and development stakeholders from 25 Asia-Pacific countries are meeting in Incheon, Republic of Korea this week to review the progress and impact of United Nations' information and communications technology for development (ICTD) programmes. 
On 6-9 November, the United Nations Asian and Pacific Training Centre for Information and Communication Technology for Development (APCICT), a regional institute of the United Nations Economic and Social Commission for Asia and the Pacific (ESCAP) is simultaneously organizing two stakeholders meetings for its flagship ICT human capacity development initiatives: the "Academy of ICT Essentials for Government Leaders" (Academy); and the "Primer Series on ICTD for Youth" (Primer Series).
"APCICT is very pleased to welcome such a diverse and committed group of partners to a series of strategic meetings intended to foster peer learning and facilitate knowledge sharing that will further enhance ICTD capacity building at the national, sub-regional and regional levels," said Dr. Hyeun-Suk Rhee, Director of UN-APCICT/ESCAP. 
The Academy programme is a comprehensive 10-module ICTD curriculum, available in 9 languages, that aims to provide government leaders with the skills and knowledge to leverage ICT opportunities for socio-economic development.  Launched in 2008, the Academy has been rolled-out in 26 countries throughout the Asia-Pacific region.
The 4th Academy Partners Meeting will bring together over 30 national and regional level stakeholders from 20 countries to discuss the current status of the Academy and the development and field-testing of a customized Monitoring and Evaluation Toolkit for the Academy. In addition, partners will also have the opportunity to share ideas and provide feedback on plans for new modules and further implementation of the programme in the Asia-Pacific. 
"Strengthening existing networks and establishing new partnerships during this Meeting will help to ensure that the Academy continues to deliver strong impacts and reaches new stakeholders", said Dr. Kyaw Kyaw Htay, Member of Union Civil Service Board, from the Republic of the Union of Myanmar.
Recognizing the importance that United Nations Secretary General Ban Ki-moon has placed on working with today's youth as development partners, APCICT developed the Primer Series to strengthen the capacity of tomorrow's leaders by enhancing ICTD curricula in institutions of higher learning. Launched in February of this year, the Primer Series has already reached 71 institutions world-wide, with plans for future roll-outs underway.  
The 1st Primer Partners Meeting provides a valuable opportunity for 20 partners and institutions from over 15 countries working to roll-out the Primer Series to come together and share experiences and lessons learned. It will also allow for the exchange of ideas on the future strategy of the Primer Series, including the localization and translation of the Series as well as the development of new Primer issues.
"In partnership with APCICT, we have taken an important first step to building the ICT capacities of our next generation of leaders", said Mr. Shathif Ali, Dean, Maldives National University. "This meeting will help support all participants deliver ICTD education to our youth in more unique and impactful ways.  
The outcomes of the Academy and Primer Partners meetings will guide APCICT's ICT for development capacity building efforts in the coming year.