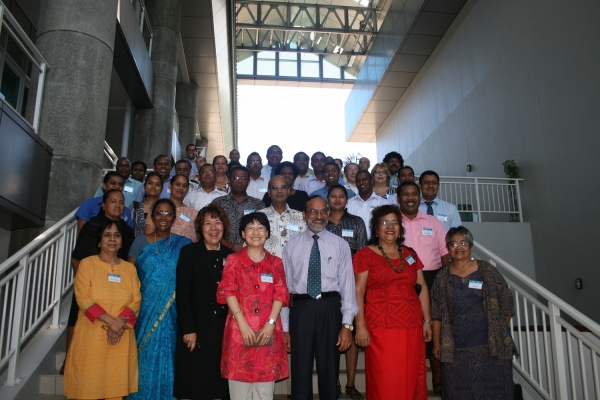 Date
Mar 12th 2012 - Mar 14th 2012
APCICT and the University of the South Pacific partner to stengthen youth capacity through ICTD training for regional educators.
Suva, Fiji (12 March). The Asian and Pacific Training Centre for Information and Communication Technology for Development (UN-APCICT/ESCAP) and the University of the South Pacific (USP) today commenced a two-day workshop in Suva, Fiji, designed to help educators across the Pacific region deliver ICT for development content to youth across the Pacific region.
According to UNESCO, the challenges of small size, economic resources, geographic remoteness, population migrations, and environmental issues that test the education systems of small island developing countries may be overcome by strengthening capacities in ICT for development (ICTD).
Close to 50 participants from USP's 14 campuses of 12 Pacific Island Countries, professors and lecturers from USP's Suva Laucala campus, trainers from Fiji's Continuing Education Programme, officers from the Public Service of Fiji, and officials from the Pacific Islands Centre for Public Administration, are participating in the "Primer Series on ICTD for Youth" (Primer Series) workshop organized by APCICT and USP.
"APCICT is very pleased to be partnering with the University of the South Pacific in its efforts to develop the ICT for development capacities of the Pacific's next generation of leaders", said Dr. Hyeun-Suk Rhee, Director of APCICT.
The Primer Series, part of APCICT's flagship 'Turning Today's Youth into Tomorrow's Leaders Programme', aims to expand coverage of ICT for development content in university curricula and provides a tool to help educators deliver ICTD capacity building education in institutions of higher learning. APCICT and USP will collaborate to implement the content in campuses throughout the Pacific.
"Providing youth in the Pacific region with the ICT knowledge and skills necessary to meet the challenges and opportunities of the future is a top priority for USP", said Professor Rajesh Chandra, Vice Chancellor and President of USP. "The Primer Series is a valuable resource that will help out educators fulfill this important objective".
Through the new partnership initiated today, APCICT and USP plan to lay a new foundation towards enabling Pacific Island Countries to achieve their national development goals through ICTs and reap the full benefits of the information age.