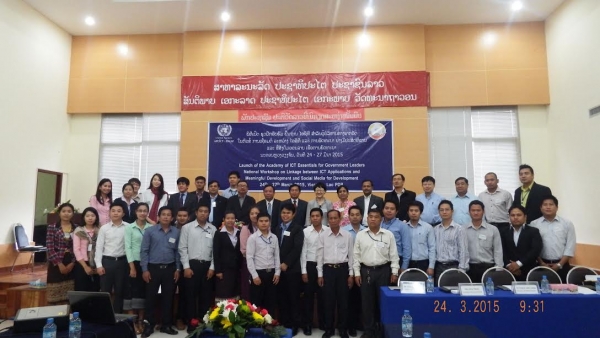 Organizer
The Government of Lao People's Democratic Republic and UN-APCICT/ESCAP
On 24 March 2015, the Government of Lao People's Democratic Republic and UN-APCICT/ESCAP launched the Academy of ICT Essentials for Government Leaders (Academy) in Vientiane. The launch event was co-organized with the country's Ministry of Posts and Telecommunications.
he Academy is APCICT's flagship capacity building programme on ICT for sustainable development targeted to government officials and policymakers. Since its launch in 2008, the Academy programme has been adopted and rolled-out in 29 countries in the Asia-Pacific region and beyond. Its comprehensive 11-module curriculum has been helping government officials and policymakers by providing knowledge and skills on how to leverage ICT for regional and national socio-economic development. Currently, Academy modules are available in 15 languages, with plans for more localizations underway.

Following the launch, a 4-day National Workshop on Academy Module 1 (Linkage between ICT Applications and Meaningful Development) and Module 11 (Social Media for Development) was attended by 40 government officials from MPT and other agencies.
The workshop marked an important step in the institutionalization of APCICT's Academy programme in Lao PDR and enhancing the use of ICT for sustainable development.