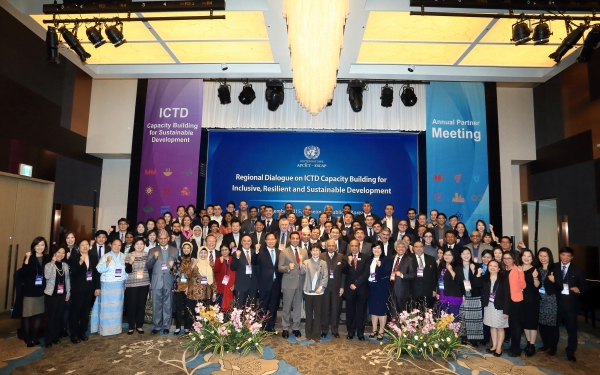 Date
Dec 1st 2015 - Dec 4th 2015
Organizer
The United Nations Asian and Pacific Training Centre for Information and Communication Technology for Development (UN-APCICT)
Location
Incheon, Republic of Korea.
On 1-4 December, the United Nations Asian and Pacific Training Centre for Information and Communication Technology for Development (UN-APCICT) will hold the Regional Dialogue on ICTD Capacity Building for Inclusive, Resilient and Sustainable Development and Annual Partners Meeting in Incheon, Republic of Korea.
The event will bring together over 100 participants from 32 countries in Asia and the Pacific, including representatives from government, academia, civil society, private sector, international organizations and experts in the field of ICT and capacity development.
Supported by the Ministry of Science, ICT & Future Planning, and Incheon Metropolitan City, the event will examine the role of ICT in achieving the 2030 Agenda for Sustainable Development, particularly in promoting effective governance, resilience and inclusive development. The dialogue will also discuss how new and emerging technologies can be harnessed for the SDGs, and their implication on ICTD capacity building. Focusing on the necessary ICTD regional and national capacity building strategies and programmes, the meeting will further seek for opportunities to enhance partnership and knowledge-sharing in this field.