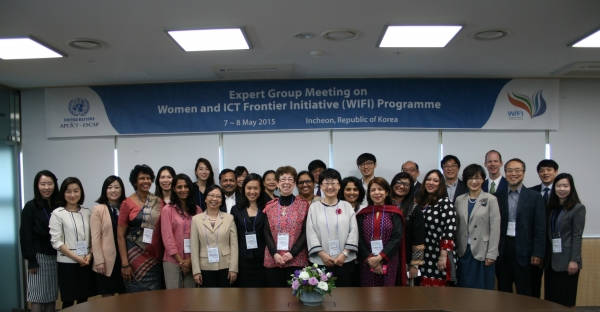 Date
May 7th 2015 - May 8th 2015
Location
Incheon, Republic of Korea
The WIFI (Women and ICT Frontier Initiative) Programme is a new initiative of APCICT that aims to develop the capacity of women entrepreneurs in using information and communication technology (ICT).
The programme has been developed to support the realization of the new sustainable development agenda, including gender equity and inclusive economic growth.
In line with APCICT's participatory and programmatic approaches, the Centre organized an Expert Group Meeting on the WIFI Programme on 7-8 May 2015 in Incheon, Republic of Korea. About 20 experts in gender, ICT and entrepreneurship from academia, government, civil society and other relevant organizations participated.The experts reviewed current approaches to ICT capacity development for women entrepreneurs, including lessons learned and limitations. There will be particular focus on appropriate training content for women entrepreneurs.The meeting will also identify partners and stakeholders with activities in the Programme's implementation.