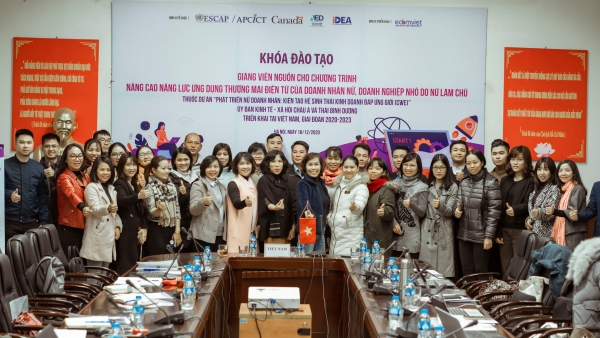 Date
Dec 18th 2020 - Dec 23rd 2020
Organizer
APCICT/ESCAP, E-Commerce Development Centre (EDC), Department of E-commerce and Digital Economy, Ministry of Industry and Trade of Viet Nam
The E-Commerce Development Centre (EDC), Department of E-commerce and Digital Economy, Ministry of Industry and Trade of Viet Nam and APCICT/ESCAP organized a Training of Trainers on E-Commerce Application for Women Entrepreneurs and Women-Owned Small Businesses in Viet Nam from 18 to 23 December 2020 in Hanoi. The training aims to enhance the business knowledge and practical skills of trainers in the areas of e-commerce, digital marketing and communication, as well as cross-border e-commerce.   
The event was attended by 45 trainers including experts from business associations, women entrepreneurs, organizations supporting women-owned businesses, SME support centers, trade and investment promotion centers, as well as representatives from academia.  
The TOT was conducted under ESCAP's five-year (2018-2023) regional programme on "Catalyzing Women's Entrepreneurship - Creating a Gender-Responsive Entrepreneurial Ecosystem" funded by the Government of Canada. The programme endeavors to advance women's economic empowerment and to increase women entrepreneurs' access to capital through innovative financing mechanisms, increase women entrepreneurs' use of business development services and digital technologies, and support the development of gender-responsive business development and investment policies and programs.  
For more information on the Catalyzing Women's Entrepreneurship project, please visit: https://www.unescap.org/projects/cwe 
To find out more about APCICT's work in the area of ICT for women entrepreneurship, please visit: http://www.unapcict.org/flagship-programmes/wifi