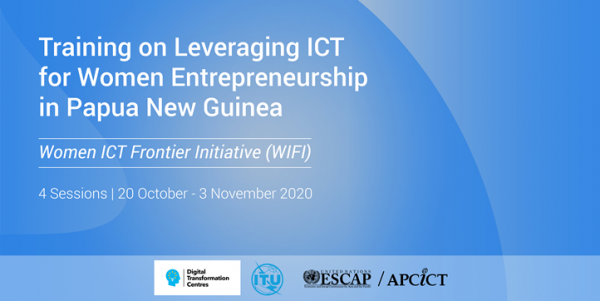 Date
Oct 20th 2020 - Nov 3rd 2020
Organizer
APCICT/ESCAP, ITU Regional Office for Asia and the Pacific, Digital Transformation Center (DTC-PNG)
In an effort to strengthen the capacities of women entrepreneurs and trainers in Papua New Guinea, APCICT co-organized a training on "Women ICT Frontier Initiative" (WIFI), in collaboration with the Digital Transformation Center (DTC-PNG) and ITU Regional Office for Asia and the Pacific, from 20 October to 3 November 2020. 
The training's objectives were to underscore the importance of ICT capacity development for women entrepreneurs, and to raise awareness on the potential of ICTs as empowering tools in narrowing the gender divide. Moreover, it expected to deepen the understanding on how digital technologies can accelerate women empowerment and address the challenges faced by women entrepreneurs.  
This virtual event was organized into four sessions, consisting of pre-recorded videos, presentations and interactive discussion sessions. It was attended by over 27 representatives from women entrepreneurs' associations, civil service organizations, Academia and training institutions, as well as potential trainers.