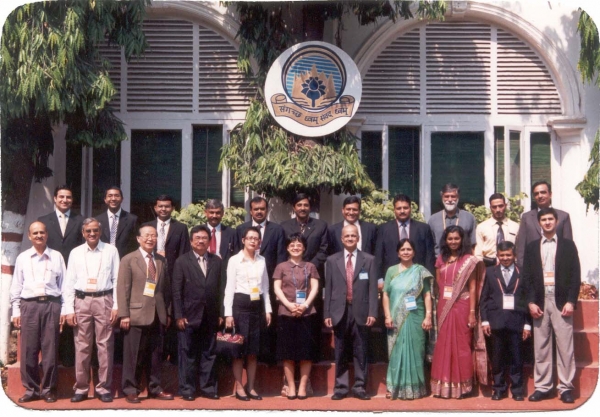 Date
Apr 14th 2008 - Apr 19th 2008
Organizer
UN-APCICT, the Administrative Staff College of India (ASCI)
Location
Hyderabad, India
As part of the Academy of ICT Essentials for Government Leaders, UN-APCICT and the Administrative Staff College of India (ASCI) is organizing a training workshop for South Asia on 14 - 19 April 2008 in Hyderabad, India.
"There can be no development without peace and there will only be slow development without ICTs.  Hence, the need to understand and use ICTs appropriately and meaningfully to meet the Millennium Development Goals and Targets," says Usha Rani Vyasulu Reddi, author of one of the eight training modules in UN-APCICT's Academy of ICT Essentials for Government Leaders and the Director of the Centre for Human Development at ASCI, the co-organizer of this event.
This workshop is the first of three sub-regional training workshop being held. On 14-19 April 2008, over twenty participants from eight South Asian countries – Afghanistan, Bangladesh, Bhutan, India, Maldives, Nepal, Pakistan and Sri Lanka – representing national ICT ministries and ICT training institutions are being trained on:
The Linkage between ICT Applications and Development
ICT for Development Policy, Process and Governance
e-Government Applications
At the opening of the workshop, Mr. R. Chandrashekhar, Additional Secretary, Department of Technology, Ministry of Communication and Information Technology, delivered a keynote address and shared India's experience in ICT for development and capacity building.
The Academy of ICT Essentials for Government Leaders is a flagship capacity building initiative of UN-APCICT. It is comprised of eight modules ranging from basic to more advanced topics on ICT for development that aims to equip policy makers and other government officials with the essential knowledge and skills they need to fully leverage opportunities presented by ICTs to achieve national development goals and bridge the digital divide.
During April and May 2008, three sub-regional training of trainers workshops will be held for participants from South Asia, South-East Asia, and Western and Central Asia. Feedback from participants on the usefulness and relevance of the training methodology and materials will be used to fine-tune the modules prior to the official launch of the Academy on 16 June 2008, on the occasion of UN-APCICT's second anniversary.