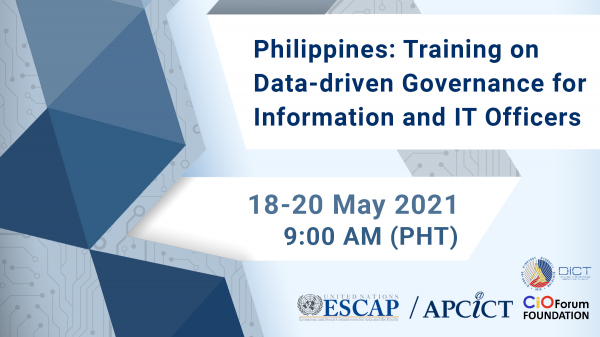 Date
May 18th 2021 - May 20th 2021
Organizer
APCICT/ESCAP, Department of Information and Communications Technology (DICT), CIO Forum Foundation of the Philippines
Location
Virtual (Philippines)
The data revolution brought by the widespread use of information and communication technologies provides governments with new opportunities that can facilitate efficiency, transparency, and improve delivery of public services. Indeed, the data revolution can help governments accelerate their digital transformation and implement the 2030 Agenda for Sustainable Development. However, the slow adoption of data in governance can be attributed to numerous challenges pertaining to lack of data standards, poor data quality, poor information governance, and lack of appropriate policy frameworks.  
In this context, the Department of Information and Communications Technology (DICT), the CIO Forum Foundation of the Philippines and APCICT/ESCAP co-organized a Virtual Training on Data-Driven Governance for Information and IT Officers, from 18 to 20 May 2021. Based on APCICT's Academy module on "Realizing Data-Driven Governance", the training aimed to provide local officials with the opportunity to deepen their knowledge and understanding on the role of data in governance and development. It also highlighted the role of data and data analytics in supporting evidence-based policy-making and in implementing and monitoring progress towards achieving sustainable and inclusive development.  
The virtual training was attended by 75 Chief Information Officers and IT Officers from central and local governments in the Philippines.