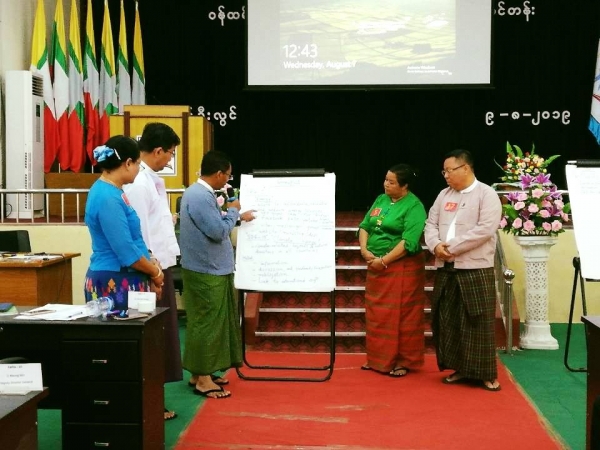 Date
Aug 7th 2019 - Aug 8th 2019
Organizer
APCICT/ESCAP, Union Civil Service Board (UCSB)
Location
Pyin Oo Lwin, Myanmar
The steady growth of social media as communication platform and  multi-dimensional tool, irrespective of the existing infrastructures, has created both an opportunity for policymakers to leverage these tools for development, and a need to create frameworks and guidelines to best maximize their use.
In an effort to strengthen capacities of policymakers of Myanmar on utilizing social media in public governance, senior government officials at Director-General and Deputy-Director-General levels from various ministries and agencies and trainers of the Union Civil Service Board (UCSB)  gathered for a National Training on Social Media for Development.
Through a series of lectures, interactive activities, and presentations, the training introduced the concept of social media and their various applications in governance and development; raised awareness among government officials on potential drawbacks and abuse of social media; and provided an understanding of the implications for national policy and programme formulation emerging from the role of social media in promoting development.
The event took place on 7-8 August 2019 in Pyin Oo Lwin and is part of the continued collaboration between APCICT/ ESCAP and UCSB to strengthen the ICT skills of the country's government executive officials.