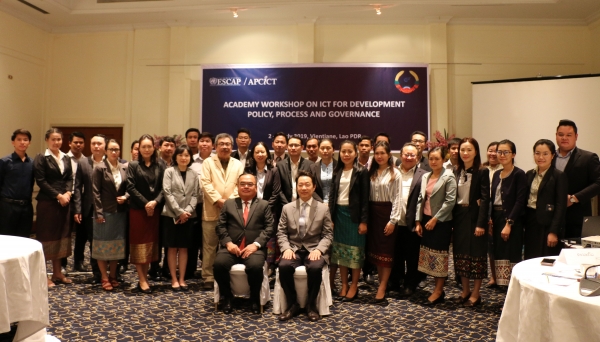 Date
Jul 2nd 2019 - Jul 3rd 2019
Organizer
APCICT/ESCAP, Ministry of Posts and Telecommunications
Location
Vientiane, Lao PDR
The Ministry of Posts and Telecommunications and APCICT/ESCAP co-organized the National Training on ICT for Development Policy, Process and Governance on 2 – 3 July 2019 in Vientiane.
This training provided policymakers with critical information about aspects of national policies, strategies and frameworks that promote ICTD. They also had the opportunity to discuss key ICTD policy and governance issues, and learn how governments can measure their progress and benchmark that progress against those of other countries. Through these discussions and analyses, participants will be better equipped to develop and implement ICTD policies in their country.
This event gathered together government officials and potential trainers from various ministries, training institutions, and other stakeholders to capacity development of civil servants in Lao PDR.