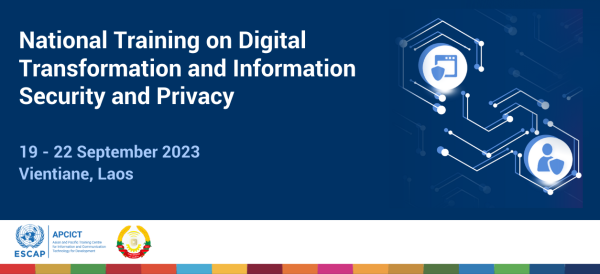 Date
Sep 19th 2023 - Sep 22nd 2023
Organizer
APCICT/ESCAP, Ministry of Technology and Communications
Location
Vientiane, Lao People's Democratic Republic
The Asian and Pacific Training Centre for ICT for Development (APCICT/ESCAP), in partnership with the Ministry of Technology and Communications (MTC), is organizing a national training on Digital Government and Transformation and Information Security and Privacy, scheduled for 18-22 September 2023. 
The training will provide an overview of how digital technologies can enhance the quality of governance and public administration. It will focus on key principles considered essential for formulating effective digital government strategies and policies. The training will emphasize the need for a comprehensive, long-term strategy for digital government initiatives. It will delve into the common pillars that underpin such strategies, including digital infrastructure, digitally enabled services, capacity building, and regulatory policies.
The training aims to equip participants with the knowledge and skills required to address the challenges posed by digital transformation while effectively safeguarding information security and privacy. Participants will gain insights into the best practices, frameworks, and tools for ensuring information security and privacy in the digital government landscape.