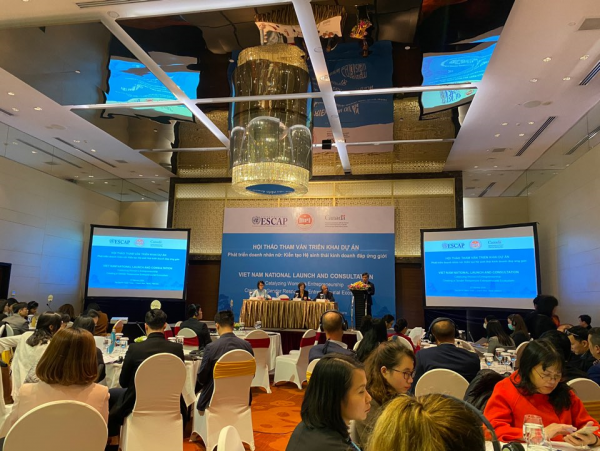 To support member States to enhance women's economic empowerment and entrepreneurship as a strategy for poverty reduction, social wellbeing and sustainable economic growth towards the realisation of SDG 5 on Gender equality, ESCAP is implementing a five-year (2019-2023) regional programme on "Catalysing Women's Entrepreneurship – Creating a Gender-Responsive Entrepreneurial Ecosystem" funded by the Government of Canada. 
The project was launched in Viet Nam on 17 February 2020. It aims to increase the capacity of public and private sector stakeholders to integrate gender and ICT considerations into financial inclusion measures and entrepreneurship development at all levels. The project launch was followed by a national consultation that served as a platform for policy dialogue, capacity building and networking for key stakeholders from the public and private sectors in Viet Nam.
During the national consultation, ESCAP, in conjunction with the Ministry of Planning and Investment (MPI) of the Government of Viet Nam, held discussions on Action Plan for building a gender-responsive entrepreneurial ecosystem for empowering women entrepreneurs in Viet Nam. The open discussions addressed issues pertaining to policy development and how to improve the legal and regulatory framework for accelerating women's entrepreneurship in Viet Nam. In the subsequent discussions, innovation in increasing access to finance for women entrepreneurs in Viet Nam was also deliberated. They also discussed how to strengthen the capacity of government leaders and policy makers to create an enabling environment for ICT-empowered women entrepreneurs.
The event brought together 70-80 policymakers and government leaders from ministries and agencies in the areas of ICTs, trade, economy, finance, SME development and gender equality as well as representatives and stakeholders from the private sector and non-government organisations, to name but a few.
For more information, please visit https://www.unescap.org/events/catalyzing-women-s-entrepreneurship-viet-nam-national-consultation