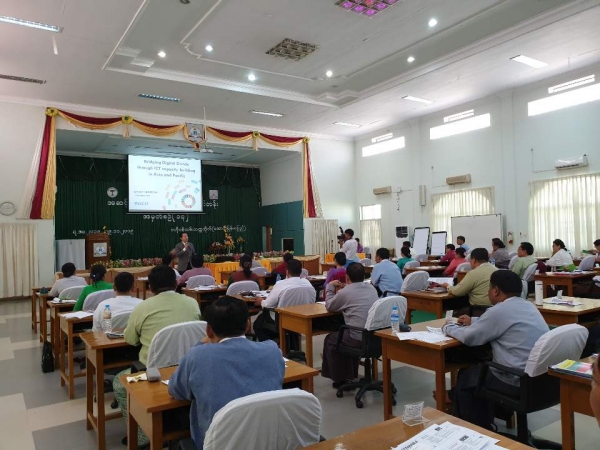 Date
Nov 13th 2019 - Nov 14th 2019
Organizer
APCICT/ESCAP, Union Civil Service Board (UCSB) of Myanmar
Location
Hpaung Gyi (East), Myanmar
APCICT and the Union Civil Service Board (UCSB) of Myanmar co-organized the National Workshop on ICTs for Sustainable Development on 13-14 November 2019 at the Central Institute of Civil Service (Lower Myanmar), Myanmar.
The workshop introduced to the participants the enabling role of ICTs to achieve the Sustainable Development Goals (SDGs) through the mechanism of national digital planning as well as local ICT-enabled initiatives that benefit the poor particularly in rural areas. It also explored how ICTs can help line ministries in SDG implementation. The event was attended by 40 senior officials (Director level) from various ministries.
APCICT has been partnering with UCSB since 2010 to strengthen ICTD capacities of Myanmar government leaders. UCSB has integrated APCICT's Academy of ICT Essentials for Government Leaders in its Government Executive Officials Management Course, organized annually since 2014 for officials at Director General and Deputy Director General levels.
For more information on APCICT's flagship training programme for policymakers and civil servants, please visit: http://www.unapcict.org/flagship-programmes/academy