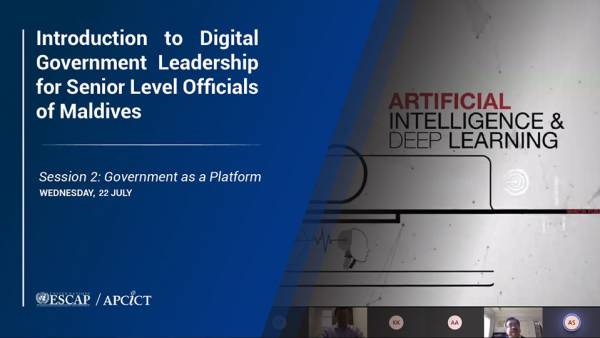 Date
Jul 20th 2020 - Aug 10th 2020
Organizer
APCICT/ESCAP, Ministry of Communication, Science and Technology (MCST)
APCICT conducted a virtual seminar on "Digital Government Leadership" for senior level officials of the Republic of Maldives, from 20 July to 10 August 2020. The event was organized in cooperation with the Ministry of Communication, Science and Technology.
In a globalized and information-driven world, digital government is fundamental to serve societies and economies. Full digitalization is no longer an option, but rather an imperative for governments to ensure well-being and progress. The digital transformation of governments implies a significant shift in policy making patterns and in the design and delivery of public services that are made possible by digital technologies.
The virtual seminar was organized into five sessions and covered topics such as digital transformation in government; government as a platform; and data driven government, among others. It also discussed key activities that senior government officials need to champion in order to successfully digitally transform government.
The event was attended by permanent secretaries from various ministries and representatives from the Civil Service Commission, the President's Office and the National Center of IT.