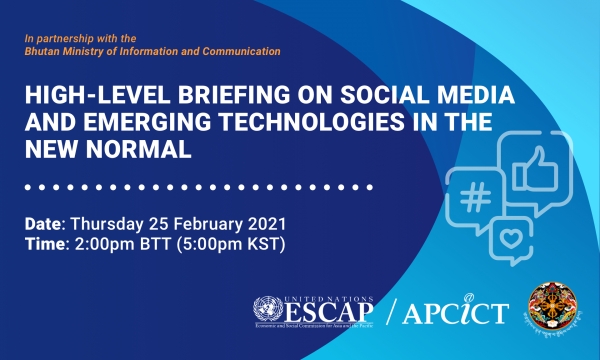 Organizer
APCICT/ESCAP, Department of Information and Media (DoIM) of the Ministry of Information and Communications (MoIC), Bhutan
Social media has emerged in recent years as a powerful and widespread communication platform, and is now being used in a wide range of areas such as public administration, rural development, environmental protection, education, public health, combating corruption, and disaster communication and management, among others. The COVID-19 pandemic has highlighted the critical role of technologies in moving forward to the new normal, as countries and organizations are leveraging emerging technologies to redefine work and Build Back Better. Bhutan is no exception to this scenario and adopting emerging technologies will be a necessity to address current challenges and to pave the way for Bhutan to possibly create a niche and lead in certain technologies. 
In this prospect, and in partnership with the Department of Information and Media (DoIM) of the Ministry of Information and Communications (MoIC) of Bhutan, APCICT/ESCAP organized a High-Level Briefing on "Social Media and Emerging Technologies in the New Normal" on 25 February 2021. The Briefing was held with the aim to increase awareness of government leaders, policymakers, and executives on the potential of emerging digital technologies and the role of social media for promoting governance and sustainable development in a post pandemic world.
The Briefing addressed the utilization of technologies for digital transformation in the public sector, and underscored the implications of these technologies for national policy and programme formulation. Access to ICT, Skills Development as well as Data Privacy and Protection were also presented as essential pillars to enabling Digital Transformation policies. Furthermore, a Digital Transformation framework requires a Whole of Government approach involving all stakeholders across Departments and Agencies, combined with a proactive bottom-up approach to engage citizens in the design of solutions, which can be scaled by Governments. 
The event was attended by 98 participants, comprised of Secretaries, Executives, Ambassadors, and Specialists from various agencies across ministries of the Royal Government of Bhutan.