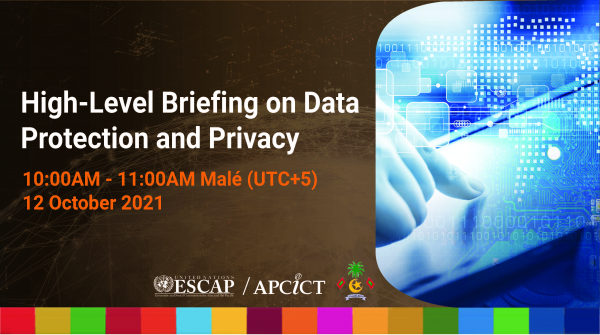 Organizer
Ministry of Environment, Climate Change and Technology of the Republic of Maldives, APCICT/ESCAP
Location
Virtual (Maldives)
The Asian and Pacific Training Centre for ICT for Development (APCICT/ESCAP), in partnership with the Ministry of Environment, Climate Change and Technology of the Republic of the Maldives, held a High-Level Briefing on Data Protection and Privacy for senior government officials on 12 October 2021.
The briefing aimed to enhance understanding among the participants on the importance of data privacy and protection; emphasize the role of data privacy legislation; and share information on international frameworks and good practices. The one-hour session was attended by 16 high-level officials and consisted of a series of presentations, lectures and discussions.
As the country is currently in the process of drafting its Privacy and Personal Data Protection Act, the High-Level Briefing will be followed by a three-day webinar on Data Protection and Privacy (to be conducted in November 2021), to dive deeper into privacy concepts and discuss the country's draft data privacy legislation.