Concluded Events
Concluded Events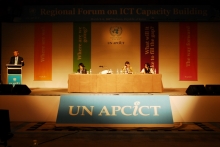 Published: Mar 01, 2007
Event Date: Feb 28, 2007
About 150 high-level participants, from national ministries and planning agencies, the private sector, academia and civil society, will discuss the status, needs and challenges of ICT capacity-building at the regional and national levels. They will also discuss the development of an ICT-related human resource development action plan.
Media Advisory No. N/07/2007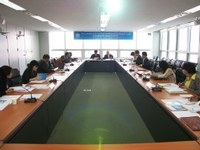 Published: Jun 16, 2006
Event Date: Jun 15, 2006 - Jun 16, 2006
The inaugural session of the Governing Council (GC) of the Asian and Pacific Training Centre for Information and Communication Technology for Development (APCICT) was held on 15 and 16 June 2006 in Incheon, Republic of Korea. The Council discussed the report of the first meeting of the Technical Committee and endorsed the report along with the proposed future activities.
The session was attended by the representatives of six member countries namely Bangladesh, India, Indonesia, Mongolia, Republic of Korea and Thailand.  Observer from China also participated.