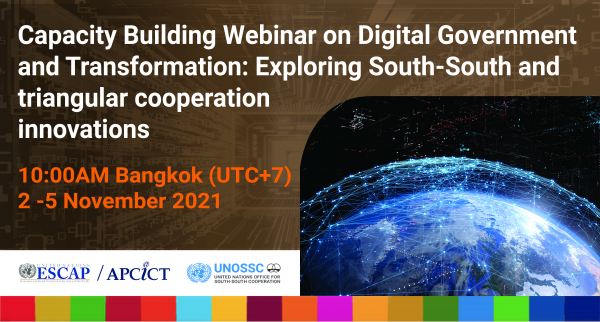 Date
Nov 2nd 2021 - Nov 5th 2021
Organizer
United Nations Office for South-South Cooperation (UNOSSC), Amazon Web Services Institute, and APCICT/ESCAP
The COVID-19 pandemic has accelerated digital transformation in many countries in Asia and the Pacific and shown some success. However, successful digital transformation will require strategy, policymaking and capacity building and means to effectively harness technology for governance and sustainable development.  
The Asian and Pacific Training Centre for Information and Communication Technology for Development (APCICT/ESCAP), in collaboration with the United Nations Office for South-South Cooperation (UNOSSC) and Amazon Web Services Institute, organized a Capacity Building Webinar on "Digital Government and Transformation: Exploring South-South and triangular cooperation innovations", from 2 to 5 November 2021. 
Based on APCICT's new Academy module on Digital Government and Transformation, the training aimed to enhance understanding on how digital technologies can be used to improve the quality of governance and, in turn, contribute to the 2030 Agenda for Sustainable Development. It also focused on the key principles that are considered useful for digital government strategy and policy formulation.  
Throughout its sessions, the webinar emphasized the need for an overarching long-term strategy on digital government initiatives, and the common pillars that are considered to underpin such a strategy, including digital infrastructure, digitally-enabled services, and capacity building and regulatory policies. The webinar also provided a platform to share knowledge, practices and solutions among countries, and explore how South-South and triangular cooperation can help strengthen digital government transformation. 
The event was attended by 138 managers and mid-level professionals from central and local government as well as government officials responsible for the development and implementation of digital initiatives.