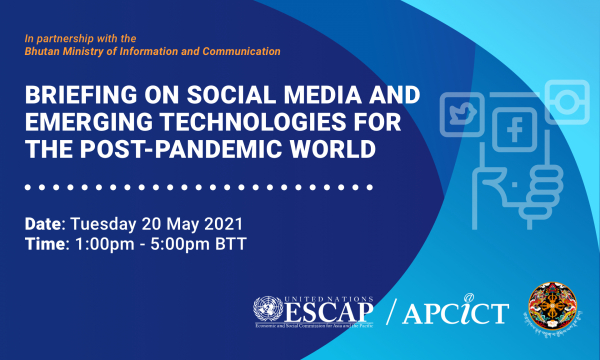 Organizer
APCICT/ESCAP, Department of Information and Media (DoIM) of the Ministry of Information and Communications (MoIC), Bhutan
Location
Virtual (Bhutan)
Social media has emerged in recent years as a powerful and widespread communication platform, and is now being used in a wide range of areas such as public administration, rural development, environmental protection, education, public health, combating corruption, and disaster communication and management, among others. The COVID-19 pandemic has highlighted the critical role of technologies in moving forward to the new normal, as countries and organizations are leveraging emerging technologies to redefine work and Build Back Better. Bhutan is no exception to this scenario and adopting emerging technologies will be a necessity to address current challenges and to pave the way for Bhutan to possibly create a niche and lead in certain technologies.  
In partnership with the Department of Information and Media (DoIM) of the Ministry of Information and Communications (MoIC) of Bhutan, APCICT/ESCAP organized a virtual briefing on Social Media and Emerging Technologies for the Post Pandemic World on 20 May 2021. 
The overall objective of the briefing was to raise awareness on Social Media for Development and the use of Emerging Technologies for Governance. More specifically, it aims to enhance understanding on the implications of emerging technologies and social media on national policy and program formulation, and on how they can be leveraged to create an enabling policy environment for digital transformation. 
The session focused on "Creating a Knowledge-based and a Tech-Driven economy" and brought together 61 participants, including Chief Planning Officer of agencies and institutions, Chief ICT Head of agencies and Institutions, ICT head of Dzongkhags and Thromdes, Media Officers and Media Focals and officials from Anti-corruption Commission.