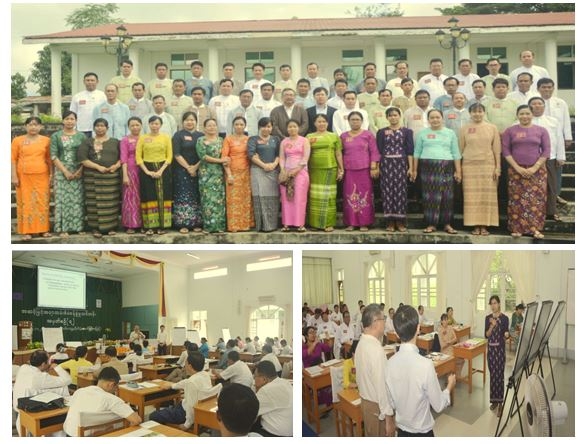 Date
Oct 3rd 2016 - Oct 5th 2016
Organizer
The Asian and Pacific Training Centre for Information and Communication Technology for Development (APCICT) and the Union Civil Service Board (UCSB) of Myanmar
Location
Central Institute of Civil Service (Lower Myanmar), Myanmar
The Asian and Pacific Training Centre for Information and Communication Technology for Development (APCICT) and the Union Civil Service Board (UCSB) of Myanmar organized a 3-day Academy workshop for senior government officers on 3-5 October 2016 at the Central Institute of Civil Service (Lower Myanmar), Myanmar.
The Academy of ICT Essentials for Government Leaders is APCICT's flagship programme for government leaders and civil servants. It imparts training using an 11-module curriculum on leveraging the potential of ICTs for achieving national development. The training workshop covered Academy Module 2: ICT for Development Policy, Process and Governance, and Academy Module 11: Social Media for Development. It was attended by around 56 representatives from various ministries at the Director level.
APCICT has been partnering with UCSB since 2010 to strengthen ICTD capacities of Myanmar officials. UCSB has successfully integrated the Academy in its regular training programme for senior government officials. They have included the Academy as a core component of the Government Executive Officials Management Course and organized it annually since 2014 for officials at Director General and Deputy Director General levels.