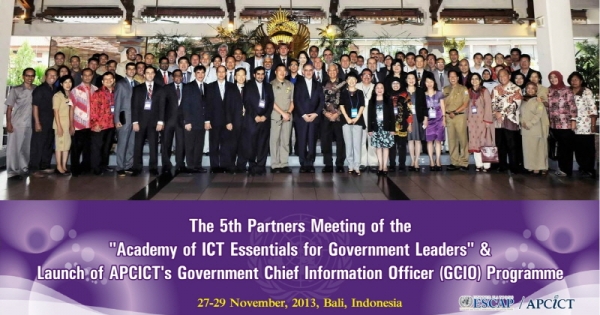 Date
Nov 27th 2013 - Nov 29th 2013
On Nov. 27th, representatives from 32 member States across Asia-Pacific gathered in Bali, Indonesia for a three-day meeting aimed at enhancing training in information and communication technologies for Development (ICTD) capacity-building for governments in the region.
29-11-2013
On 27-29 November, APCICT held its Fifth Partner Meeting of the Academy of ICT Essentials for Governments Leaders (Academy Partners Meeting) in Bali, Indonesia. The three-day event brought together over 35 participants from 32 countries representing APCICT's Academy partner institutions to discuss the progress and achievements of APCICT's ICTD capacity-building programme and to develop strategies for further expansion and institutionalization in Asia and the Pacific in 2014.
The Meeting served as a platform for partners to share experiences, strategies and achievements in rolling-out the Academy programme. This exchange of experiences enhanced partners' understanding of the Academy programme and helped them better incorporate the programme into their ICTD capacity-building efforts. The occasion also provided a valuable opportunity to receive partners' feedback on the draft version of APCICT's new Academy module on ICT and Small and Medium Enterprises and to finalize the module on Social Media for Development. In addition, during the meeting partners discussed open and distance learning initiatives in Asia and the Pacific in order to develop synergies with APCICT's distance learning platform, the APCICT Virtual Academy.
This year's Academy Partners Meeting coincided with two other events: the launch of APCICT's third issue of its Knowledge Sharing Series (KSS) on the topic of Government Chief Information Officer (GCIO) Programme Development; and a National GCIO Workshop convening 60 GCIOs, organized by the Ministry of Communication and Information Technology of the Republic of Indonesia.
The GCIOs participating in the National Workshop joined Academy Partners in the GCIO launch, during which representatives from the Philippines, Indonesia, Mongolia, Kazakhstan, Republic of Korea and other countries from the Asia-Pacific region shared country perspectives on GCIO programme development during a roundtable session.
Since its launch in 2008, the Academy programme, one of APCICT's flagship programmes, has been adopted and rolled-out in 27 countries in the Asia-Pacific region and beyond. Its comprehensive 11-module curriculum has been helping government officials and policymakers in their capacity-building efforts by providing knowledge and skills on how to leverage ICT for national and regional socio-economic development. Currently, Academy modules are available in 12 languages, with plans for more translations underway.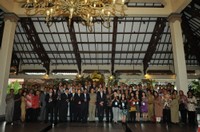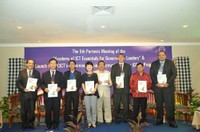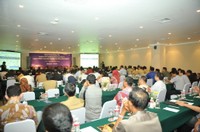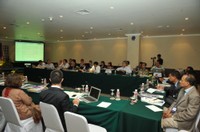 To see more photos, please go to Photo Gallery.
Attachment
5th APM Aide Memoire 21November2013 version.pdf
Workshop Agenda
APM2013_Posters.zip
Academy Partner's Posters