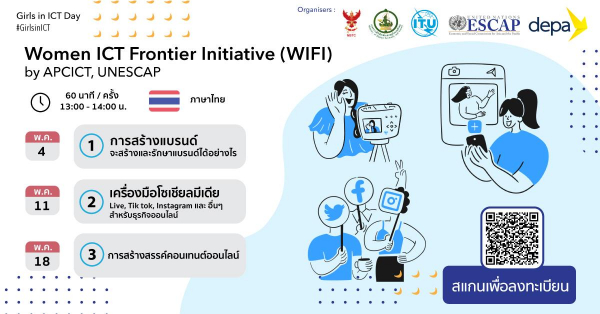 Date
May 4th 2021 - May 18th 2021
Organizer
APCICT/ESCAP, MDES, NBTC, ITU
As part of the 2021 Girls in ICT Day celebration in Thailand, APCICT/ESCAP is conducting trainings based on its Women ICT Frontier Initiative (WIFI) programme under the Entrepreneurship Track, with the objective of enhancing the knowledge, skills and abilities of young women and girls in using ICT tools and applications to support e-commerce startup and management.  
The WIFI training sessions will be conducted on 4, 11, 18 May 2021 in partnership with the Research Center of Communication and Development Knowledge Management (CCDKM). The training will focus on creating branding, utilizing social media tools, and  creating online creative content.   
Girls in ICT day in Thailand is celebrated from 22 April to 27 May, and is co-organized by the Ministry of Digital Economy and Society (MDES) of Thailand, the National Broadcasting and Telecommunications Commission (NTBC) and the International Telecommunication Union (ITU).  
For more information, please visit: https://girlsinict-asiapacific.org/  
 Girls ICT Day Thailand, Opening Ceremony, 22 April 2021